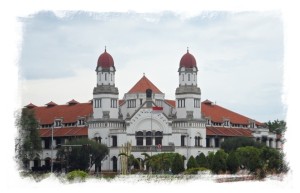 Semarang –  a port city located on the north coast –  is the capital of Central Java. It has 1.5 million inhabitants and is known for its large Chinese population. Although busy Semarang is much less chaotic than other big cities in Java. Touristic especially the Old City (Kota Lama) is worth a visit. Here are several buildings to see from the Dutch colonial era. Unfortunately most buildings are in poor condition. The main landmark in this part of the town is the Gereja Blenduk. Gereja Blenduk, originally built in 1753, is the former Protestant domed church and the oldest church in Central Java. The church is easily recognized by the domed roof. Another prominent building is Marabunta, built around 1854. Formerly this was the city theater where plays were staged. Striking is the building because of the two large red ants ("marabuntah" in the local language) on the roof. Other interesting buildings in the Old City include the art nouveau railway station (Stasiun Tawang Semarang) and the post office (Kantor Pos Besar Semarang). South of Kota Lama is the famous Gedung Lawang Sewu (Javanese for "a thousand doors "), which is housed in the former headquarters of the Dutch East Indian Railway and which was built in 1904. The stunning landmark is famous for – as its Javanese name says – many doors.
In Chinatown (Kampung Pecinan) certainly the colorful and very well maintained Tay Kak Sie Temple from 1771 is worth a look. In this temple with the blue roof Taoist gods are honored. The sturdy doors are adorned with beautiful carvings .
Another famous landmark of Semarang is the Sam Po Kong Temple (also known as Gedung Batu). This impressive temple is located five kilometers southwest of the city center. The temple commemorates the explorer Zheng He, who went ashore here in the fifteenth century and a mosque had built. This mosque forms the basis for the subsequent temple. The building has undergone numerous renovations over the course of time. The present temple complex includes five temples and is built in a Chinese-Javanese style. The main temple is 34 by 34 meters. The temple is of great significance for many Chinese Indonesians, who see it as a place of pilgrimage.