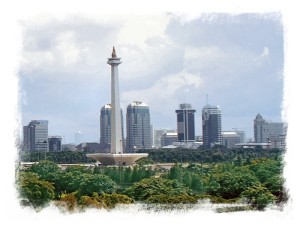 The capital and seat of the government of Indonesia, located on the northwest coast of Java, has more than 10 million inhabitants. In the metropolitan area surrounding Jakarta, called Jabotek, live more than 20 million people. Jakarta is the most important economic and political center of Indonesia. The city has a long history and in the course of time had different names: Sunda Kelapa, Jayakarta, Batavia and Djakarta and Jakarta since 1972. A city of contrasts. Glamorous modern shopping centers, colonial relics, rich upscale neighborhoods and shabby slums, you can find it all in Jakarta. Hot, crowded and dirty are often the words linked to this metropolis and not without justification. Nevertheless, the city has visitors something to offer.
Thus, the bustling old port of Sunda Kelapa definitely is worth a look . Here the traditional and picturesque wooden Buginese schooners can still be admired. These boats are still used for the transport of goods between the various islands. Also, here are some historical buildings from the former Dutch VOC time like the old tower and the former warehouses, in which now the maritime museum is housed. Not far from the Sunda Kelapa Old Batavia is located in the Fatahillah Square, which was the administrative center of Batavia in the Dutch colonial era. Around this square are three historic colonial buildings, in which now museums are located: the Historical Museum (in the old town hall of Batavia), the Wayang Museum and the Museum of Fine Arts (in the building of the former Palace of Justice).
The center of Jakarta is located around the Medan Merdaka (Freedom Square), the former Place Royale. In the middle of this square is the square is the Monumen Nasional (popularly Monas). This marble obelisk established in 1964 is 137 meters high and recalls the struggle for independence of Indonesia. Around Medan Merdaka are still many buildings from the Dutch colonial era, including the Presidential Palace and National Museum. East of the square is the Istiqlal Mosque, the largest mosque in Southeast Asia.