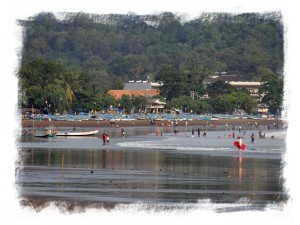 While many people are still living from fishing ( the many colorful fishing boats can be seen lying on the beach attest to this ) Pangandaran develops more and more into a real tourist place. With its wide dark sandy beaches and its excellent surfing Pangandaran is rapidly gaining popularity, especially with the Indonesians. In 2006 the site was hit by a very severe earthquake with a magnitude of 7.2 on the Richter scale. Hundreds of deaths and massive property damage were caused. Pangandaran has, however, miraculously recovered quickly from the effects of this disaste .
Located on the peninsula near the town is Penajung Pangandaran National Park, which consists largely of secondary rainforest.  Animals living in the park are deer, banteng (a type of buffalo), hornbills, porcupines , several species of monkeys and dragons. The park also flourish the rare Rafflesia Padma. The park consists of two parts. On one hand there is the jungle and on the other the recreationpark. The last one has a number of hiking trails, which in dry weather are passable and which lead past and to some interesting places. So one can visit some small caves. Or the remains of a Hindu temple Batu Kalde. Or even a beach on the eastern side of the park. The most beautiful beach in Pangandaran, the white sandy beach Pasir Putih, is located on the western side of the park.
At just over 20 miles east of Pangandaran is the Green Canyon ("Cukang Taneuh"). From the dock on the spot the guides lead their traditional boats ("ketinting") to the picturesque ravine. On both sides of the emerald colored Cijulang river rise high steep cliffs and wooded slopes. After half an hour at a rock you reach the beginning of the spectacular gorge. From this point one can swim further to explore the gorge, where the sunlight and the steadily descending water drops once again emphasize the natural beauty of the gorge.