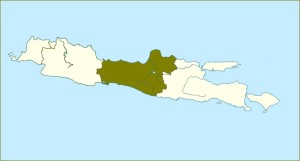 The central part of Java administratively comprises the province of Central Java and Yogyakarta Special District. Historically and culturally, however, Yogyakarta is also part of Central Java. In the whole area live approximately 35 million people. The largest cities are Semarang, Solo and Yogyakarta. Semarang is the capital of the province of Central Java. Yogyakarta is that the same special district.
In the northern area of Central Java are rich fertile plains, while more inland there are mountainous plateaus. In the inland are from west to east a series of volcanic mountains. These are the Mount Slamet (3432 meters), Mount Sundoro (3136), Mount Sumbing (3371), Mount Merbabu (3142) and on the border with East Java Mount Lawu (3265) is situated. All these very impressive mountains have peaks above 3000 meters. However, separate disclosure in this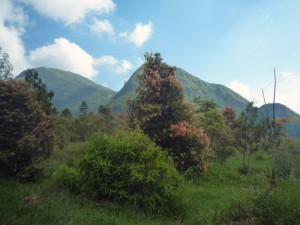 respect deserves Mount Merapi (2968), located just 35 km from the city of Yogyakarta. Although it's not the highest but the most active and most dangerous volcano in Indonesia. Central Java is not only geographically, but also historically and culturally the center of Java. Dance ballet (Ramayana), crafts (batik, silverware, gamelan music and shadow puppets) symbolize the rich Javanese culture found in this region, especially in the cities of Yogyakarta and Solo (Surakarta), once – as sultanates – completely independent  autonomous regions of the former Kingdom and Sultanate of Mataram. After the independence of Indonesia Surakarta Sunanate lost its autonomous status. The autonomy of the Sultanate of Yogyakarta however remained as a special province partially intact. The history associated with the principalities can be seen especially in the kratons in Yogyakarta and Solo. But this also is the area of the world famous temples as the Borobudur and the Prambanan. However, there are here to find more fascinating temples. Maybe less well known, though no less interesting include the Mendut Temple (near the Borobudur), the strikingly designed Sukuh Temple (east of Solo/Surakarta) or the old Arjuna Templecomplex on the Dieng Plateau. This plateau can also be highly recommended because of its natural beauty and volcanic activity that there is short to observe.